Royal Shrewsbury Hospital Ward 24 (Cardiology) - Enter & View visit report
The purpose of the visit was to be assured that patients are treated with dignity and respect, have privacy and that staff respond appropriately to care needs, including preparation for discharge.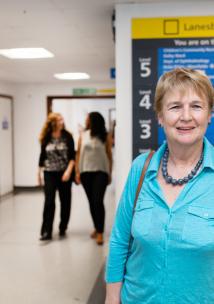 Summary
In the past two years Healthwatch Shropshire has received several comments about cardiology services at SaTH, both positive and negative. We decided a visit was due to the cardiology ward at Royal Shrewsbury Hospital to look at the treatment received by patients in particular preparation for discharge.
The aim was to:
Speak to the Ward Manager and Matron about their roles and leadership
Speak to patients and relatives about their experiences in particular asking about privacy, dignity and respect in the care they are receiving
Talk to staff and patients about how discharges are planned
Key Findings
Staff told us they are often required to work on other wards meaning Ward 24 does not always have enough specialist trained staff leaving other staff to work long shifts.
There are high levels of satisfaction with the ward recorded on the Friends and Family and Patient Experience questionnaires.
One patient told us that call bells were always answered quickly and three patients told us that staff explained everything to them clearly.
Patients spoke highly of the staff and commented on how hard the staff worked.
Staff and patients said "more staff" would be good.
Some patients were not sure about their plans for discharge.
Patient discharge can be delayed by difficulties in getting care packages in place, for example at the weekend, by a lack of beds in community hospitals and by difficulties in arranging patient transport.
The floorplan and directional signs on the corridors and website are confusing.
More Information about the Enter & View scheme can be found here.
Please note the findings of this report reflect what we found on the day of our visit and services may change over time. More information about this service can be found on the Care Quality Commission website and the hospital website.