Royal Shrewsbury Hospital, Ward 22 (Trauma & Orthopaedics) - Enter & View visit report
The purpose of the visit was to find out if patients are treated with dignity and respect, have privacy and that staff respond appropriately to meet care needs, including preparation for discharge.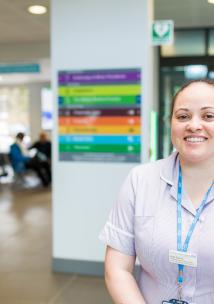 Summary
The visit team:
Spoke to patients about their experiences on the ward, how safe they felt and whether they felt supported
Spoke to staff about their experiences of working and supporting patients on the ward, including preparing patients for discharge
Spoke to visitors and relatives of patients and asked their views and opinions of the service
Looked at the ward and how it is arranged
Looked at how staff interacted
Key Findings
Most patients we spoke to were very complimentary about the care they received, and about the food.
We observed many instances of staff giving excellent care to patients.
Most patients felt they were well-informed about their condition and their discharge plans.
Patients were not given information about the ward itself.
The layout of the ward makes it difficult for staff to observe patients.
The cramped conditions on the ward make it difficult for less mobile patients to move around, both within their bay and on the ward corridor.
There is no room / area on the ward where people can have private conversations.
There is a lobby area in the entrance to the ward where patients can wait to be discharged, this did not seem to be a comfortable place to sit for any length of time.
Some patients found that the lights were dimmed at night too late for comfort. 'Comfort packs' are available, but had not been offered to the patients we spoke to.
 
More information about the Enter & View scheme can be found here.
Please note the findings of this report reflect what we found on the day of our visit and services may change over time. More information about this service can be found on the Care Quality Commission website and the hospital website.