Experiences of urgent medical care in Shropshire
We wanted to hear about people's experiences of seeking urgent medical care following the introduction of NHS 111 First into Shropshire in December 2020.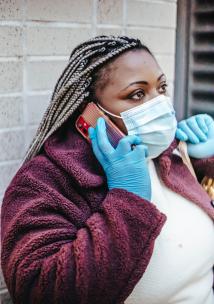 From December 2020, NHS England launched a new system called NHS 111 First. If you have an urgent, but not life-threatening, health problem you can now contact NHS 111 First to find out if you need to go to A&E.
The public are encouraged to call NHS 111 to be directed to the correct service, whether that is an Emergency Department (Accident & Emergency), their GP, or self-care. Callers to NHS 111 can now receive time slots at local Emergency Departments (EDs) or other urgent care departments, as well as receive time slots with GPs or out of hours GP services. The new service aims to reduce waiting times at EDs and limit the number of people in waiting rooms, to prevent the spread of COVID-19.
Initial findings in national research were showing that many people do not know that NHS 111 First could book them into the different services they may need.
Key Findings
First Point of Contact
59% of our respondents said they contacted NHS 111 first when they had an urgent medical need
The proportion of people who contacted NHS 111 first varied across Shropshire, ranging from 29% in the South West to 71% in the North
NHS 111
Fifteen of the people who contacted NHS 111 First (36%) were booked into appointments with other services:


13 of these described the process of booking an appointment as very good (11) or good (2).
14 of these told us they would use the system again of contacting NHS 111 first if a booked appointment could be made for them.
All agreed that using NHS 111 was straight forward.
57% of people were seen more quickly than they expected.

Ten out of the 11 carers who contacted NHS 111 about the person they care for were able to discuss the patient's needs with the NHS 111 health advisor.
69% of all patients who contacted NHS 111 rated their experience as very good or good.
Awareness of NHS 111 First
Overall 35% of people told us they were aware that 111 could book same day appointments with services, 55% were not aware and 10% were unsure.
There was less awareness as age increased.
Intention to use NHS 111 First in future
Overall 71% of people were 'very likely' or 'somewhat likely' to contact NHS 111 the next time they were seeking urgent medical care. The groups that were least likely were those who had contacted their GP, where this figure fell to 36% and those who had gone straight to A&E where the figure was 50%. The figure for those who had experience of contacting NHS 111 was 78%.
Treatment
Overall 78% rated their treatment as 'Good' or 'Very Good', 7% as 'Average' and 12% as 'Poor' or 'Very Poor'.