Isle Court Nursing Home - Enter & View visit report
We decided to make a visit to Isle Court Nursing Home as we had not visited since 2014 and were aware of changes in management. The visit was announced meaning we had written to the home and informed them we would be coming.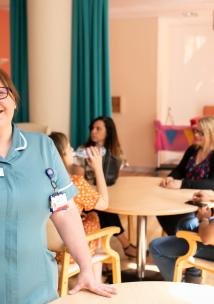 Summary
We were looking at the quality of life for residents living in the home particularly in respect of choices they could make about their lives for example what food they wanted to eat or what activities they wanted to do. We were also looking at dignity and respect and at the care provided by staff.
In particular we looked at five aspects of the resident's experience at Isle Court:
Are they listened to and supported to express their needs and wants?
Do they have choices?
Do they feel safe and secure within the home?
Are relationships with their family and carers supported?
Are complaints and feedback encouraged and acted upon?
Key Findings
Residents, carers, relatives and staff feel the Home is providing compassionate care. People feel known and valued. There is, however, variation in the amount and quality of support. The current leadership is seen very positively, and residents and relatives feel they have made big improvements.
Residents, carers, relatives and visitors feel listened to. They also feel supported to say what they need and want. This has improved since the appointment of the new Manager, Lead Clinician and Pastoral Care Coordinator.
Residents have choices regarding their rooms, food and activities
Residents, carers and relatives are generally satisfied with the standard of care, especially with what they saw as recent improvements in staffing numbers. The staff are seen as caring. However, some relatives and carers saw a variation in the quality of individual carers.
Relationships with families and carers are supported, and have improved under the Home's new leadership.
The Home is collecting feedback from residents, carers and relatives. Actions in response to concerns, however, are not always done.
More information about the Enter & View scheme can be found here.
Please note the findings of this report reflect what we found on the day of our visit and services may change over time. More information about this service can be found on the Care Quality Commission website and the home website.