Experiences of End of Life and Palliative Care Services in Shropshire
Death and dying can be a very difficult topic to talk about but we wanted to give people the opportunity to share their experiences and feedback on the services they or a loved one has received or is currently receiving.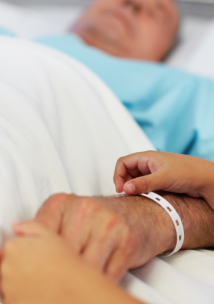 Summary
As a person nears end of life, whether they are in hospital or being supported at home, there is only one chance for the providers of care to get it right.
We wanted to know if people felt that the care their loved one received was what they wanted and expected. For example, if they were treated with dignity, if they felt listened to and if their wishes were respected.
It has been shown that it is really important that those providing care at end of life are open and honest with both the patient and relatives. Being better informed can reduce stress and anxiety and help people understand what to expect. We wanted to know whether the language used by those giving the care was appropriate and if it prepared people for what was going to happen. Were other ways of communicating found if the person's preferences couldn't be expressed verbally, e.g. because of dementia or brain injury?
We wanted to find out whether care for the dying is the same wherever people die in the county and if there is a joined up approach to end of life care between different services including those available overnight and over weekends for those in the community.
Key Findings
Public Health data shows that only 34% of people who died in 2017/18 had been identified by their GP as needing palliative / end of life care. This is reflected in the experiences some people shared with us where they describe a lack of acknowledgement that their relative required palliative care or was at end of life impacting on the type of care and level of support received.
Overall the people who shared their experiences with us reported slightly more positive aspects (71) about their experiences of palliative / end of life care than negative aspects (65). However 79% of experiences included at least one negative aspect.
The experiences where the majority of the feedback was positive included comments on general service delivery and organisation (e.g. "RSH treated him and they were wonderful, he received great care"), quality of care and quality of staffing.
The majority of negative experiences were around communication and information, treatment and continuity of care.
A theme apparent from the feedback is that once it is acknowledged by staff that the patient is in need of end of life care the patient's and family's experience is more positive, e.g. when they go on to receive hospice services or care from the End of Life Care Team in hospitals.
Some families found a lack of recognition by professionals that the person was at end of life and did not have the opportunity to prepare for the end of life.
The lack of good communication or timely, relevant and accessible information was raised in 30% of experiences.