Royal Shrewsbury Hospital Ward 23 (Oncology and Haematology) - Enter & View visit report
The purpose of the visit was to be assured that patients are treated with dignity and respect, have privacy and that staff respond appropriately to care needs, including preparation for discharge.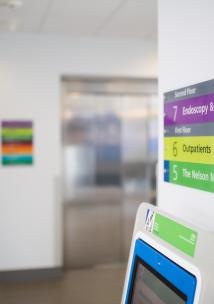 Summary
Healthwatch Shropshire receives many comments regarding hospital treatment and services from members of the public and there are times when it is appropriate for
us to see and hear for ourselves how services are provided. Healthwatch Shropshire have received very few comments about inpatient oncology care and so we felt a visit was due to this service to hear patient's views.
We looked at five aspects of the patient experience on Ward 23:
Do they feel comfortable and able to relax?
Do they have confidence in the ability of the staff?
Do they feel supported?
Do they feel listened to and understood by staff?
Do they feel the staff communicate with them well?
We also observed the Ward environment from a patient's viewpoint.
Key Findings
Comments from patients and visitors who we spoke to were unanimous, and highly positive, about all aspects of their experience on Ward 23. All patients and visitors we spoke to felt comfortable, able to relax, confident in staff ability, supported, listened to and understood and felt that staff communicated well. Comments about patient discharge were also positive. Everything we saw and felt on the visit echoes this view.
We were told about a strong team ethos on the Ward. This was supported by what we observed and what we heard.
Staff said that patients, especially those receiving longer-term treatments, would welcome an outside space. One patient also told us they missed going outside.
Patients would like more variety in the menu and more personal space/facilities.
The day room, a bathroom and the Ward were used for storage.
More Information about the Enter & View scheme can be found here.
Please note the findings of this report reflect what we found on the day of our visit and services may change over time. More information about this service can be found on the Care Quality Commission website and the hospital website.