Danesford Grange, Bridgnorth - Enter & View Report
This visit was part of a programme of visits to care homes that are registered by the CQC as providing Dementia care to learn more about the care they provide and identify areas of good practice.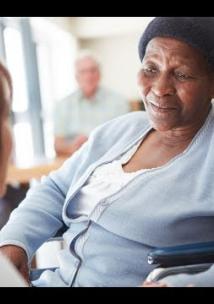 Summary
The purpose of the visit was:
To make observations of the home environment and interactions between staff, residents and their families.
To understand the homes' approach to providing 'person centred' care (including Dementia care) and the support available for staff.
To hear about how staff support residents to maintain their independence, make choices and maintain relationships with family / carers.
Key Findings
We suggested:
Ensuring that the ongoing refurbishment is consistently 'Dementia friendly' across the whole home.
Making the lounge area brighter, less cluttered and easier for residents to move around in.
Consider repositioning furniture so that staff working at the computers can see more residents, and those walking through the lounge do not obstruct residents' view of the television.
Ensuring that the extensive programme of group and individual therapies is advertised more widely e.g.; using posters, newsletters, the website.
More information about the Enter & View scheme can be found here.
Please note the findings of this report reflect what we found on the day of our visit and services may change over time. More information about this service can be found on the Care Quality Commission website and the home website.