Royal Shrewsbury Hospital, Ward 21 (Supported Discharge) - Enter & View visit report
The purpose of this visit was to find out if patients have been effectively communicated with about their care and hospital discharge arrangements, and whether they are treated with dignity and respect.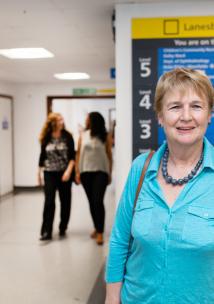 Summary
The Shrewsbury & Telford Hospital NHS Trust (SaTH) told us that Ward 21 at the Royal Shrewsbury Hospital was to be used as a 'temporary' ward during busy periods to reduce winter pressures on beds.
The plan is for patients who are medically fit to go home to be transferred to Ward 21 whilst their discharge package is finalised in order to free up a bed on the ward.
The Associate Director of Nursing, Quality and Patient Experience at SaTH suggested we visit the ward to find out how the transfer to this ward has been managed and if patients/families have understood what is taking place and why.
Key Findings
Patients are encouraged to wear their day clothes and sit at the table in the day room for their meals, in preparation for going home.
We were told an extra bed is sometimes put in this day room when pressure in the rest of the hospital is very great. One patient commented to us that this was very upsetting.
There were several patients with varying levels of dementia on the ward, there is no security lock on the entry doors.
We were told there are very few permanent staff on the ward, which is staffed mainly by nurses from the hospital bank and agencies.
The assessment processes and liaison with other wards in the hospital to organise transfers to ward 21 appeared to us to work very well.
During our visit we saw that staff were friendly in their approach to patients, and discreet in attending to their personal needs. We saw patients being treated with dignity and respect.
 
More information about the Enter & View scheme can be found here.
Please note the findings of this report reflect what we found on the day of our visit and services may change over time. More information about this service can be found on the Care Quality Commission website and the hospital website.