The Robert Jones and Agnes Hunt Orthopaedic Hospital, Gladstone Ward - Enter & View Visit
The purpose of the visit was to speak to patients about their experience of being on the ward. To find out if they feel they are given the information they need, are listened to and involved in on-going decisions about their care and treatment.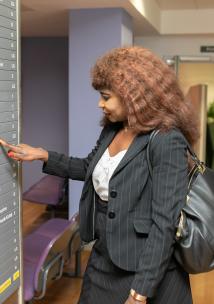 Summary
We found, from speaking with patients and their visitors about their experience of being on the ward, that the staff and the care they give are very highly regarded and that patients feel very well supported.
Almost all patients we spoke to said they were given the information they needed, were listened to and involved in on-going decisions about their care and treatment. Among the concerns expressed to us were the lack of activities at weekends which some patients felt might affect the continuity of their rehabilitation programmes, and the lack of opportunities for social interaction in the evenings and at weekends.
Key Findings
We observed many instances of good attention and thoughtfulness on the part of staff.
All the patients we spoke to were very appreciative of all the staff, with the exception of some of the night staff. Concerns about some of the night staff were about a lack of compassion and care.
There are regular reviews of each patient's progress and goal setting. The whole MDT is involved and meets regularly with the patients at the bedside.
Several patients expressed some concerns to us when we asked them directly. These included concerns about which staff to communicate with on each shift, staff not coming back to them when promised and the format of the MDT bedside meetings. It was not clear whether they all felt confident enough to talk to the staff about these particular issues.
The one communal/dining area had a billiard table and seemed tailored more towards men.
For a ward that is home to patients for long periods, there is a lack of home comforts as would be found in residential or nursing homes.
We were told that patients occasionally make use of the waiting area in Out-patients to socialise after 5pm.
There is a marked contrast between a highly structured timetable during weekdays and a significant lack of activities at the weekends and every evening.
Apart from visits to the therapy rooms, gym and pool, there are no obvious alternative spaces for patients to use within the general hospital except for the restaurant and cafe.
All the patients we spoke to felt that they were very well supported to deal with their significant changes to lifestyle.