New adult social care support directory launched to help people stay well and independent
A new guide to help Shropshire residents access social care and health services has been launched.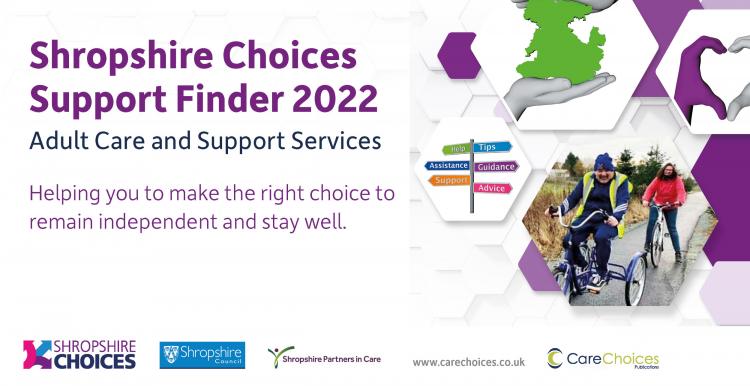 Shropshire Council's Shropshire Choices Support Finder 2022 for Adult Care and Support Services (PDF download) offers a wide range of advice and support to help people make the right choice to help retain their independence and stay well. The directory covers a wide range of topics, including:
Health and wellbeing
Housing options and support, including support for homelessness
Community safety
Travel and mobility
Social and physical activities
Help to stay independent
Equipment, gadgets and adaptations
What adult social care services are available, and how to plan your support
Specialist care and support
Support for unpaid carers
Financial advice and support
Opportunities to have your say
Useful contacts
Directory of care homes and nursing homes
The council's Shropshire Choices website also provides information about a wide range of sources of help and support, including independent financial information, information about care homes and housing options. It can also help with keeping independent, getting out and about, keeping safe, health and wellbeing, employment and volunteering opportunities, and being a carer.
Tanya Miles, Shropshire Council's executive director of people, said,
"Our Shropshire Support Finder is another way people can find information to help them get the support that's right for them."
To access the Shropshire Choices Support Finder 2022, click here. You can find out more about Shropshire Choices by visiting www.shropshire.gov.uk/shropshire-choices